AR-15 Upper Receiver Comparison and FAQ
Bushmaster Small Hole A2 Upper Receiver
| | |
| --- | --- |
| Diagram Number | Description |
| 1 | A2 Rear Sight Assembly |
| 2 | Production Codes |
| 3 | Carry Handle |
| 4 | Barrel Attachment Point |
| 5 | Front Pivot Pin Lug |
| 6 | Ejection Port Cover |
| 7 | Case Deflector |
| 8 | Rear Takedown Lug |
| 9 | Forward Assist |
Production Codes
(Above left) Large hole SP1 upper receiver with Colt production codes. (Above right) Large hole A2 upper receiver from Colt. (Above center) New production Colt flattop.
All of these receivers are forged by various sources using 7075 aluminum, which is then sent to the manufacturer for final machining and fitting. The production codes listed below are used by the various manufacturers as part of their quality control procedures for their forgings. These production codes can overlap between manufacturers, and cannot be counted on as the definitive source of origin - they do however make a good guideline.
| | |
| --- | --- |
| Stamping | Source |
| CAF | Colt / Alcoa Forge (See above for photo) |
| CH | Colt / Harvey Aluminum (1st Colt Forgings) |
| CM | Colt / Martin Marietta (See above for photos) |
| DK | Diemaco / Kaiser |
| FK, FS, BK, DK, EK, FK, AF, CW, AA, FS | Bushmaster |
| LK | FN / Kaiser |
| LM | LAR / Martin Marietta (Army Spares Contract) |
| Splintered A | Olympic Arms |
| | |
Variants
M16

Original production as seen from 1963-1967. Also typifies Colt commerical SP1 production.

This unit is from a military M16

A1

Introduced in 1967 this version featured the forward assist that was introduced on the Army's XM-16E1 and carried forward officially into the A1 series. Other minor imporvements made.

Two versions are pictured to the left. The upper version features the A1 sight and forward assist, as found on a 6550. The lower image is a late model that also featured the case delfector - Image courtesy Rambo.

A2

Introduced in 1983. Added a much more adjustable rear sight, case deflector for left handed shooters, and retained the forward assist from the A1.

This unit is a large hole Colt.

Flattop

Inroduced by the military in the A3 configuration with removable handle (pictured below) these uppers allow the attachment of weaver style rings directly to the receiver. Several other makers offer these in a "high rise" style that extends the base up even further to allow for a higher scope positioning.

Unit is a late production Colt small hole.

9mm Colt

The early models had the full dust cover and no shell deflector. Later green models added the shell deflectors. Blue label guns, are reported to utilize the same upper as late greens.

Unit is a late green label - note C & M on sight assembly and case deflector. Image Courtesy Stokes

M4

These feature several feed ramps milled into the receiver, and are denoted by a 4 or M4 above the gas port "cloverleaf". Several versions available, including the popular A3 flattop, A2 adjustable sights, and the A1 "Commando" . The unit pictured to the left includes rail markings for the Knight Armament RIS system, and is also a Large Hole (purchased from Dennis Todd)
Dean Davison sent in the following clarifying points about the Vietnam era M16s
The M-16A1 was indeed introduced in 1967 as you point out. In fact, I was in the I Corp area of Vietnam at the time and my company received them in October of that year. However, it did NOT introduce the forward assist feature as indicated. The forward assist was demanded by the Army before they would issue the rifle to infantry units and incorporated it into rifles a couple of years before that.
The rifles first purchased by the Army and issued as a standard weapon to complete infantry units was known as the XM-16E1. This was done in 1965 as I recall. I emphasize the point about being issued to complete infantry units because various configurations of the regular M-16 in the USAF version (w/o forward assist) were sent to Vietnam and used by various advisors, etc. prior to 1965 but they were NEVER used by a complete Infantry unit.
1965 is a significant date because that is the year the first complete Army Division was sent to Vietnam. I served in the Army as a Light Weapons Infantryman and my own unit, the 1st Cavalry Division (Airmobile) was the first whole Division to be committed to the war. I can assure you they all went to Vietnam in 1965 with XM-16E1's with the forward assist feature two years before the A1. The weapons had been issued earlier at Fort Benning, GA. There are Army maintenance manuals from that time that cover the M-16 and XM-16E1. I have one on my bookshelf.
As an fyi, another very common mistake I often read about is that the A1 also incorporated the trap-door buttstock as one of it's initial "improvements". Not true, the A1's still had the rubber buttpad for quite some time. I am not sure of the exact date but I believe it was more like 1970-72. That is when the Army went to the 4-piece cleaning rod that would fit the buttstock. Previously they (we) issued a 3-piece rod. There were two kinds, the first one had a knurled end and the later one had the "T"-handle. Same with the 30-rd magazine. They came much later than the initial introduction of the A1. The only significant technical change on the M-16A1 was the chrome bore. The most significant change in general was that they WORKED :)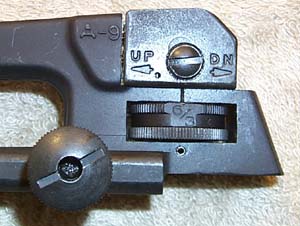 (Above) A2 sight assembly on a Colt detachable handle.
Small Hole vs. Big Hole
Colt owners often refer to having a small or large hole upper receiver (and corresponding lower receiver). Small hole receivers of .250" are the "milspec", but during early production by Colt for the civilian market, they produced rifles utilizing a .315" spec, so as to preclude use of military uppers on civilian lowers. This production lasted until roughly 1993-1994. As a general rule of thumb all Colt "unblocked" lower receivers, are large hole, while pre-ban "blocked" lower receivers represent transition years where occasional variations popped up.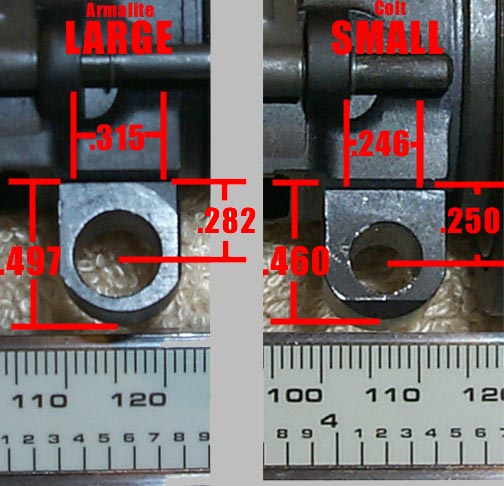 (Above left) Armalite large hole upper receiver... This was produced in limited numbers, and is no longer in production. (Above right ) New Colt small hole upper as shipped with a HBAR upper assembly. (Below) Colt SP1 and A2 upper receivers.
M16 Sear Relief
| | |
| --- | --- |
| | (Left) Sear relief for the M16 and full auto conversions. Colt produced AR15s do not have this cut, as is demonstrated by the A2 upper to the left. |
Rear Lug
| | |
| --- | --- |
| | (Left) The rear lug hole size is nominally .250" for all producers. There are no production variations. |
Thanks to John M, Lakeitel, Kyoon, Troy, Rambo and others on the AR15.com and Sturmgewehr.com boards for providing the information found on this page.
Last Modified on August 27, 2000
aalbert@biggerhammer.net