Wanted: Information

Doc Wohler SIG AMT Scope and Mount
It is estimated that 50 to 100 of these mounts were sold to the general public. These were originally production overuns from military contracts to Chile and possibly two other South American countries.
Any information that can be contributed about this mount would be appreciated. In particular it would be great to hear from owners of these mounts, with respect to their serial numbers, so as to get a better idea of the number of these mounts to actually make it in. In addition original pricing information, and general thoughts on these mounts would be helpful as well.
| | |
| --- | --- |
| | (Above Left) Top view of scope showing serial number, and optical information. (Above Right) Left side view of mount. Lever on side forces rod to the right to engage detent in the rear scope mount. (Above) Wohler serial number 1055. Photo courtesy Mark Adkins (Left) German style post that is found in the Wohler scope and mount combination. (Below) Right side view of the mount. |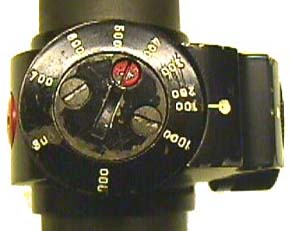 (Top) Bottom of Wohler mount, showing locking mechanism. Right side is ridge that locks into the forward part of the receiver. (Above left) Leftside of mount. (Above right) Frontal view of mount showing hole cut for use of conventional iron sights while the scope assembly is mounted. Photos courtesy SIG Parts Service.
Known Serial Numbers
| | | |
| --- | --- | --- |
| Serial Number | Current Owner or Location | Notes |
| 1055 | Mark Adkins | Yellow "witness markings" on the rear post. Indicating correct centering location for the windage adjustable rear mount. 200 meter marking is painted red |
| 1081 | Anonymous | 200 meter markings are painted white. |
| 1094 | Sig Factory Museum, Switzerland | |
| | | |
| | | |
(Above) Wohler 1094 at the SIG Factory museum in Switzerland. Photo courtesy SIG Parts Service.
Last Modified on March 15, 1999